Home
Blogs
It pays to get ready...
It pays to get ready for generative AI – sooner rather than later
by Jonathan McCormack
June 15, 2023
Design and Develop, Supply Chain Solutions

4 Mins Read
Great news! ? We're featured in The Fashion PLM Report 2023 by The Interline. Our Software Engineering Director – Jonathan McCormack shares his views around Generative AI and its role in the apparel industry. Read the full article below.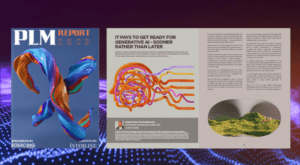 Instead of waiting for technology vendors to introduce generative capabilities, it will be vital for designers and developers to deepen their skills, expand their toolsets, and prepare for a near-term future where their creative and commercial talents are supported by AI.
In the ever-evolving realm of apparel, keeping pace with the latest innovations is vital for competitiveness and success. Our industry, along with others, could well find itself on the brink of a revolution – one powered by the rapidly emerging potential of generative AI.
Advancements in this technology have come thick and fast this year with businesses using generative AIs to write code, create art and author content all at speeds never seen before.
ChatGPT pioneered the way at the start of the year with GPT-3.5, and technology giants have clearly shifted their strategies to either compete or adopt. Microsoft is bringing ChatGPT into Office via CoPilot, and Google has just launched Bard alongside integration with G-Suite – and Adobe and Nvidia have shared similar commitments to the technology.
As consumers we undoubtedly benefit from these advancements – our creative work should become easier as more tools arrive that try to understand our imaginations and turn this into reality.
We use these tools by speaking to them in human language. We prompt the tools to create, by describing our needs as we might do to a colleague or intern. We share little details that might help the AI work and think as we do, then we follow up and iterate until we are satisfied.
You can find businesses using these tools today as the barrier to entry is surprisingly low. If you can explain the solution or problem in a short prompt, then they will happily assist you in your creation.
But these tools only scratch the surface of business benefits. The next generation of generative AIs will be able to identify improvements to development processes, help create a range plan from previous seasons, will be able to contribute to meetings and output just like a human teammate. To enable this, these tools will to be prompted, and that prompt will need to include your business data.
For apparel enterprises to fully capitalise on the immense possibilities offered by generative AI, a critical factor comes into play: Product Lifecycle Management (PLM). Without a centralised hub of information and a unified source of truth, harnessing the full benefits of generative AI becomes a daunting challenge.
In this fast-paced environment, where AI advances are coming rapidly, if apparel businesses fail to embrace PLM, they risk losing their future competitive edge by being unable to adopt further generative AI technologies.
Now is the time to leave behind disconnected spreadsheets and email threads, and now is the time to adopt PLM. Traditional Product Lifecycle Management benefits are well known and studied at this point and there have always been compelling reasons to adopt it. Finding the right provider was always important and the depth of features is a main consideration in finding the perfect PLM.
Today however, looking forward to this possible future with Generative Ais, I argue that businesses new to PLM need to look equally (if not more so) at time to install.
How we define success with PLM may be about to change. Generative AIs will need data repositories to draw out new insights from our single source of truth, so the sooner we start building that source the better.
Speed of install could then perhaps be considered over roadmaps and future enhancements. These new AI tools are unlikely to be exclusively embedded in existing software. Many of the Generative AI tools are agnostic and run in web browsers or small executables. Some even find themselves as Discord extensions.
We do not need to wait for the biggest PLM vendors to embed these AI tools before starting. When the next generation of generative AI arrives to affect our industry, we should already know how to use them.
Innovation is happening fast. Businesses creating new tools are looking at the fast and broadest ways to bring AIs technology to you. If you have seen or used these new Generative AIs and think more advancements are on the horizon, do not wait until it is too late to bring your data together into one place. If these AIs meet their potential, we will very quickly find ourselves in the world of haves and have nots. The barrier to entry for a successful PLM installation has never been simpler and the successful projects may never again require less – so what are you waiting for?
This article originally appeared in the PLM Report 2023.
All Blog Categories
Design and Develop
Supply Chain Solutions
Fabric Optimisation
Method Time Cost Optimisation
Production Planning
Sustainability
Videos