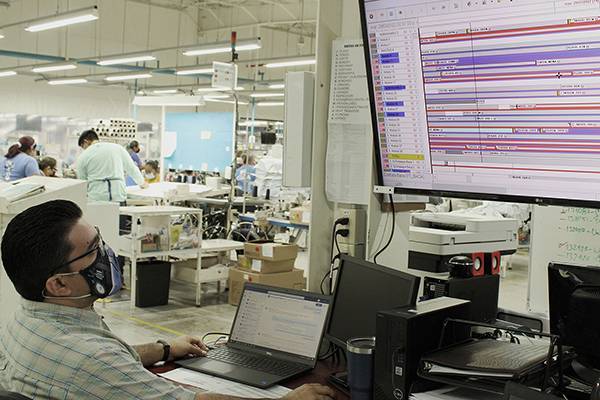 Coats Digital is delighted to announce that leading sports apparel manufacturer, Vertical Knits SA de CV, has selected Coats Digital's FastReactPlan solution to digitally transform its manual planning processes into a unified single view,  so that the company can optimise production processes, significantly reduce waste, promptly accommodate unexpected style changes and rapidly respond to emerging new consumer trends.
FastReactPlan was chosen to digitize manual planning processes and provide a unified version of the truth across all Vertical Knits' departments to reduce high raw material inventories and costly manufacturing variances in order to effectively meet more challenging customer requirements.
Established in 2003, Vertical Knits, S.A. de C.V. is a vertically integrated fabric and apparel manufacturer specialising in full package and cut and sew programmes for renowned global athletic and lifestyle brands, such as Nike, Converse, VF Corporation and Fanatics.
With factories in Baca and Yucatán, in Mexico, Vertical Knits employees over 3500 people in the region and exports to over 21 countries. One of the key suppliers to Nike, Vertical Knits has baked-in sustainability targets at every step of the production process to ensure the safest working conditions and highest environmental standards are met with regards to water waste and energy reduction. It is Fair Trade certified and has secured the Global Recycled Standard, Global Organic Textile Standard, and Better Cotton Standard. The company also works with Roadmap to Zero, the Higg Index, Social & Labor Convergence and the Global Reporting Initiative, among many others, to actively support sustainability and corporate social responsibility drives worldwide.
Digitizing our company is much more difficult than simply implementing a software solution. We also needed robust industry expertise to support the implementation and provide exemplary staff training so that the technology delivers benefits from go-live.

Coats Digital's industry expertise is second to none, and the implementation couldn't have gone more smoothly. We look forward to continuing our strong partnership with Coats Digital as it works with us on a long-term basis to re-engineer our supply chain processes.

Omar Kuri
CEO
Vertical Knits
Prior to the FastReactPlan implementation, Vertical Knits found that disconnected, manual planning processes using separate Excel spreadsheets for each department resulted in complex, time-consuming and staff-heavy procedures that lacked any overarching visibility from a single source.
As a result, the company was unable to cope with increased order volumes, effectively manage unplanned style changes, or flag potential production issues in advance.
Some of our customers' requirements are very specific and the depth of functionality of FastReactPlan, enables us to adjust the plan in real-time to factor in sudden changes.

Coats Digital offers best-in-class planning tools designed specifically for the apparel industry. On top of this, its unparalleled industry heritage and expertise makes Coats Digital the obvious choice as our core digital transformation partner.

Ricardo Valenzuela
VP Operations
Vertical Knits
In addition to providing visibility of the planning operations across 2000 sewing machines, FastReactPlan will also support screen print production processes and will include Power BI dashboards for the benefit of management.
Vertical Knits is a highly respected apparel manufacturer that is consistently innovating to ensure it delivers the most sustainable manufacturing processes and ethical business best practices possible, and we are delighted that we continue to play a pivotal role in the company's digital transformation journey. 

With more accurate capacity forecasting in one single data source, Vertical Knits will now be able to reduce material waste further, as well as significant staff hours on laborious manual duplicated tasks; and we look forward to working with them to ensure they remain agile, flexible, efficient and effective in an increasingly demanding industry sector.

Oscar Gonzáles
Coats Digital
LATAM


Production Planning with FastReactPlan
Boost your garment manufacturing productivity by 5-10% with FastReactPlan