Home
Blogs
Digitization – Practical Steps for...
Digitization – Practical Steps for Garment Manufacturers
by Wesley Ekman
April 7, 2023
Supply Chain Solutions

4 Mins Read
There remains little doubt that changing consumer behavior, enabled by technology and online retailing is driving massive change throughout the entire fashion supply chain.
To date, Brands and manufacturers have responded with varying degrees of urgency, to address the ongoing challenges around speed, cost, order complexity, innovation, and transparency. Emerging strategies have included the continued pursuit of lower-cost manufacturing regions (now with far fewer options), vertical integration or JV activity, VMI programs, sourcing proximity, and on-shoring. Leading players also continue to incorporate impressive innovation and productivity gains into their strategies, through determined and continuous initiatives, including LEAN.
The Garment Manufacturer's Biggest IT Challenge
Most garment vendors face the significant internal challenge of disjointed systems and far too many 'gaps' in the process that are currently filled by manual documents such as Excel, emails etc. The only way to achieve true speed and efficiency is simply to eliminate these manual, 'disconnects' from the business process.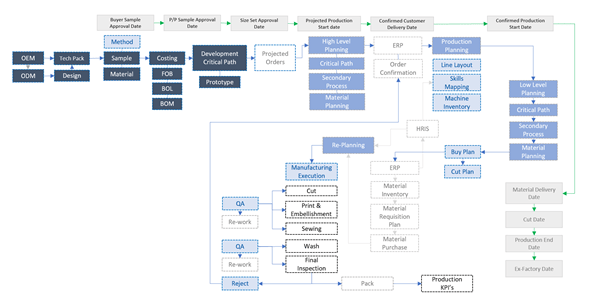 Plan to Pack Process in RMG Manufacturing
It would greatly simplify things if there was a 'one box' IT solution for all your system needs; but the reality is that in the same way, there is no one APP on your phone that covers everything, there is no one software solution available that can fulfill the majority of requirements.
For a business with no systems or only a very simple order processing/ finance package, the choice of where to start can be overwhelming. Even for businesses that already have more advanced systems the decision of what to do next needs some thought.
For a business with no systems, the first thought is likely to go for ERP, as it appears to offer so much of what is required with a long list of available modules and Yes, ERP does cover a lot, Finance, Sales Orders, Production Orders, Purchase Orders, Inventory, Human Resources, but the key questions to ask are:
What business processes REALLY cause you most of your headaches and problems?
What business processes are stopping you from achieving your own or your customers' KPIs?
The same logic applies to a business that already has established systems when deciding what area to invest in next. The selection process should start by determining the required end result, then consider your existing business processes and systems to analyze the 'root cause' of why the required goal/ end result is not currently being achieved or achieved consistently. In other words, where are the gaps/weakest points in the existing process that need to be addressed?
Managing pre-production process i.e. sample submissions & approvals, tech packs, etc.
Costing
Capacity Planning of sewing, cutting, embroidery, printing etc.
Aligning production schedules with material availability
Hourly/Daily production records and WIP tracking
It is these manual elements that provide a real barrier to digitization, automation and speed.
What systems are out there?
In the table below section, you will see the key functions of each solution along with the technological needs etc., Study this for a few minutes and you will see there are some very large differences between the key solutions required:

Once we accept that there is no one-box solution, it's then much easier to understand the way forward.
So, despite having an ERP that appears to provide materials control including BOM creation, purchase orders, logistics and inventory control/warehouse still they face challenges to match material supply with production requirements.
It must be membered that 'going digital' is not the goal, but merely the approach and tools by which to get a faster more efficient and flexible process, it's also a journey with a start, but no end. Each business needs to look at their end to end process and its buyers needs to identify in their case where they have the greatest pain and therefore where the potential for immediate improvement is greatest, but beware of 3 common mistakes:
Copying your existing process and putting it in a system achieves digitization, but is unlikely to enable you're your business to move forward significantly. A system implementation should deliver more, providing a different and better process, with less effort to ensure business needs are met and a solid return on investment is delivered.
Don't run before you can walk; dramatic shortcuts to the dream of full digitization and automation are rare. It's a step-by-step process, for example, the automation of a process requires a clear definition of a process including the rules, realistic data, the expected outcomes and how best to measure the end result.
Further change is inevitable; and as the pace of change accelerates, it's critical you're your choice of solution can adapt and develop further to future market demands: We regularly see ERP systems that were established just a few years ago, struggling to deal with the new standard of flexibility in customer ordering patterns and last minutes changes to PO, delivery schedules and size/colour assortments that are the new norm.
These are also 3 key reasons why choosing the right partner who are specialists in both the fashion industry and technology is key to supporting you on your journey…
All Blog Categories
Supply Chain Solutions
Design and Develop
Fabric Optimisation
Method Time Cost Optimisation
Production Planning
Sustainability
Videos