Texeurop (BD) Ltd. selects Coats Digital's FastReactFabric to digitize and accelerate fabric planning and gain end-to-end fabric tracking.
By implementing FastReactFabric, Texeurop's cutting room processes will be automated with accurate real-time reporting to help them to make informed business-critical decisions and emerge stronger from the COVID-19 crisis.
As Bangladesh's Ready-Made Garment (RMG) industry revives from the COVID-19 pandemic, the need for technology and automation becomes more crucial to make business-critical decisions on time and respond quickly to the changing market scenario. To support digital transformation and win the recovery, Coats Digital's real-time fabric planning solution FastReactFabric will help Texeurop (BD) Ltd. to reduce planning time and cost and ensure 100% end to end fabric tracking.
Established in 2005, Texeurop (BD) Ltd. is a vertically integrated knitwear manufacturer located in Gazipur, Bangladesh.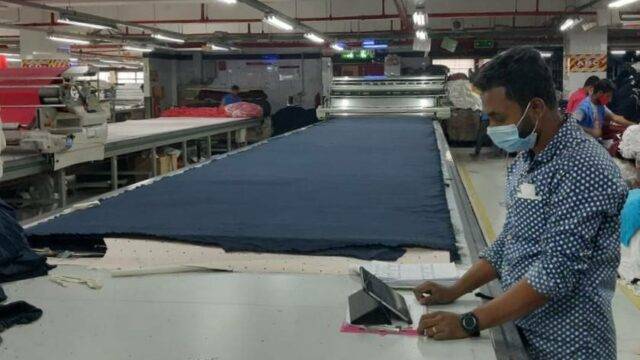 With a clearly defined quality policy and management structure, the company is committed to provide complete customer satisfaction and on-time delivery while offering a wide range of knitwear products such as polo t-shirts, sweatshirts, shorts and trousers for men, women and kids.
Texeurop manufactures for prominent markets such as Germany, Russia, Netherland and Spain, catering to major brands like S.Oliver, Tom Tailor, Sportmaster Lerros, Gerry Weber, Polyconcept, El Corte Ingles and Mustang.
Considering the wide range of products and continuous style changes on the production floor, Texeurop team was unable to identify and quantify various fabric wastages such as end loss, end-bit and panel replacement, which resulted in the inaccurate calculation of fabric consumption. Consequently, the factory team was unable to identify the gaps between the booking consumption and the final production-consumption, making it difficult for them to evaluate the correct buying consumption.
The manual processes and data reconciliations led to errors and increased time and effort. In order to view and analyse the style, product or customer performance, the team had to put together multiple spreadsheets and generate an overall summary, which was a tedious and time-consuming task.
A digitally connected cutting room
Because of the COVID-19 crisis and resulting travel restrictions, the Coats Digital team leveraged the power of online communication and collaboration to connect with Texeurop and deliver successful implementation and training on FastReactFabric. Texeurop (BD) Ltd. successfully completed the 3-week FastReactFabric training on 20th August 2020. The Coats Digital team will now set monthly KPI reporting structure which will help to observe and analyse the data trends from the reports and provide business intelligence to Texeurop (BD). Ltd.
M. Zulfiker Ahmed, G.M.(Operation), Texeurop Bangladesh, said: "The ever-changing scenario in the apparel sector has highlighted the grim reality of volatility in our industry. The lack of proper visibility and inefficient fabric tracking has kept us in a dark phase of approximation for a long time and made it difficult for us to assess whether the fabric utilisation is as per the set standards or not."
"Digitization, complete tracking and visibility were the deciding factors for us to select FastReactFabric. The system offered visibility of the gap between buying and final production-consumption. The in-built real-time reporting and KPI-based reports were much needed to track the blind spots."

M. Zulfiker Ahmed,
G.M.(Operation), Texeurop Bangladesh
M. Zulfiker Ahmed continued: "Armed with these, I can take decisions for course correction in current orders. Also, it will give us a strategy for future orders with the same fabrication. I would like to thank the team for making the online training program as effective as on-site execution and the hard work they have put in the project to make it a success."
FastReactFabric's end to end fabric tracking ability has provided clear visibility of the difference between the booking and the actual on-floor consumption for all the orders. The factory can now analyze the actual on-floor consumption trends across various styles and products in a single click and compare them with their booking consumption and therefore make data-backed buying decisions for the upcoming orders.
Along with fabric utilisation data, FastReactFabric's real-time tracking has also provided with the utilisation breakdown into different categories, giving the management visibility on the areas that have the scope of improvement.
"The data tracking of FastReactFabric is seamless. The tablet application, replacing the paper-based data entry reduce the rework. The live reporting of the system gives us more areas to look into and improve the process itself. We can track and manage every inch of the fabric now and have information on all the production-based wastages.

The visibility and tracking from various reports are great take-aways from the FastReactFabric system. Looking forward to getting the most out of the solution."

Waliur Rahman, D.G.M.(PPC & SC), Texeurop, Bangladesh
Mr. Kundan Sengupta, Country Manager – Bangladesh, Coats Digital said: "With the advent of the recent crisis, while most businesses equated cash conservation with putting a stop to innovation, Texeurop and Mr Zulfiker were visionary to invest in a smart digital future of garment manufacturing. Kudos to their vision and speed of execution. We are happy to partner in their journey to win the recovery."
FastReactFabric is designed to give control over fabric usage in the cutting room by optimising key processes, such as the generation of cut plans, lay plans and allocation, end bit management and tracking, and reporting.
FastReactFabric's automated, closed-loop approach to fabric planning reduces the amount of effort and time spent on re-planning, and at the same time maximises fabric utilisation.

Smart Fabric Planning with FastReactFabric
Stop wasting fabric and start increasing profit. Buy fabric with accuracy and cut with confidence.