Perform Group achieves ZERO late delivery with FastReactPlan
Manufacturing for the Dance and Gymnastics markets, Perform Group, LLC is the leader in providing high quality apparel sold throughout the world.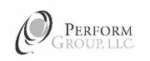 The Customer Perform Group, LLC manufactures products through its own plant and through domestic and international sub contractors, and ships over one million garments per year.Its world-wide customer base includes dance schools, performing arts academies, universities, as well as gymnastics schools and competition teams.
The company can also proudly boast that their apparel was worn by gymnasts from various countries during the 2008 Beijing Olympics and has also starred in high profile events such as the Super Bowl.
"Material inventory levels used to fluctuate wildly, with little correlationto our production plan. Effective master planning synchronises our entire supply chain. This allows us to reduce our raw material investment by 10-15% in our off-peak season, while at the same time we have decreased our quantity of RM stock outs.

Even though our current season bookings are up 30%, we haven't shipped a single item late in overa quarter. Our performance is so good that weare starting a new guaranteed on-time or it's freeshipping program."

John Misner ,
CEO, Perform Group, LLC
Find out how FastReactPlan can benefit your business, click here.
Want to know more? Speak to one of our team members to discover the possibilities