With manufacturing operations bridging the Dominican Republic and Haiti, Grupo M and Codevi have close to 10,000 employees and are one of the largest apparel manufacturers in the Caribbean. Grupo M specialises in knits, denim and lingerie. They also have an embellishing/printing and laundry facility allowing the business to offer added value through new and innovative washes. Approximately 90% of their products are shipped to the USA, where customers include Levi Strauss, PVH (Calvin Klein), DKNY, Polo, Carhartt, American Eagle, Nordstrom, Dillard's and Lucky Brand, amongst other important customers.
The co-production model in the Domician Republic/Haiti, allows Grupo M to leverage competitive labour costs and preferential US import duty from Haiti, while location close its major customers in the US, supports customer demand for lower inventories and shorter lead times. This competitive edge is enhanced by a commitment to on-going investment in technology to deliver continuous improvement and added value. With growth set to accelerate, it was clear that the business would need to invest in improving the production planning and control processes, and Grupo M set about seeking a suitable software solution.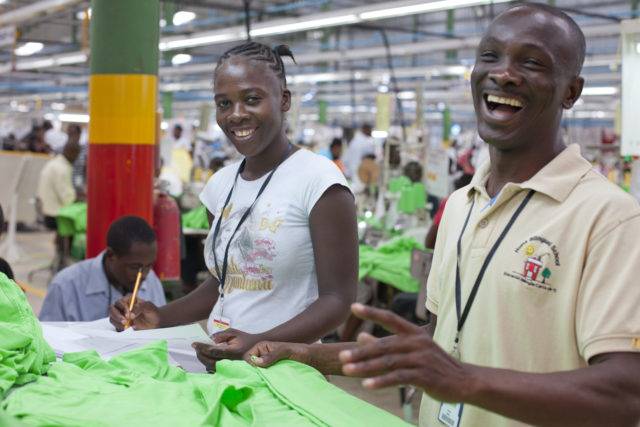 Following an extensive review of providers and solutions, Grupo M decided to work with Fast React (now part of Coats Digital) and implement the market leading FastReactPlan solution. FastReactPlan is a highly visual production planning and capacity management tool, developed specifically for fashion industry manufacturers to achieve a whole new level of visibility, efficiency and control.
FastReactPlan is a modular solution and the configuration for Grupo M will include planning for all production facilities, Materials Requirement Planning (MRP) and Critical Path Management.
By using FastReactPlan, the business will be able to monitor and plan all manufacturing facilities, looking at capacity levels, material requirements and critical path activities to ensure on time delivery, increase productivity, reduce production lead times and reduce materials inventory.
"We are delighted to be working with Grupo M on this exciting project. In the modern apparel environment, effective and responsive planning is essential to support business growth. Grupo M quickly recognised the benefits of FastReactPlan which is a proven, industry specific solution that will deliver significant improvements in visibility, efficiency and control, together with an expected return on investment of 6 months or less."

Alistair Kershaw, Business Development Consultant
Fast React (now part of Coats Digital)

"One of the most important apparel suppliers in the Region, Grupo M has found in Fast React (now part of Coats Digital) the perfect partner to enable us to add competitive advantages through reduced lead time, accuracy in delivery quotes and better utilization of our manufacturing capabilities and assets. This move will further solidify Grupo M's presence in the area and guarantee a steady and certain growth within our customer base."

Executive, Grupo M
Find out how FastReactPlan can benefit your business, click here.
Want to know more? Speak to one of our team members to discover the possibilities